Water resistant woods: this is what you should know
When looking for the most befitting stain for your outdoor (or indoor) wood project, several factors need to be considered. There are two main stain types according to their bases- oil-based stain & water-based stain; and in specific conditions, one is practically better than the other. Depending on the type of wood, any previous wood treatment & weather exposure, both these types of stains offer different levels of coverage & protection. Here are some properties of both the the stain types to guide your decision:
- The water-based stain is breathable, does not emit harmful fumes or odors, is not flammable, dries quickly, retains its color for a longer period of time, offers a richer hue of color, is extremely resistant to mildew and mold, and is easier to clean requiring only soap and water; while
- the oil-based stain needs more time to dry that allows for a more even finish, penetrates wood deeper, requires less for long-term maintenance, is extremely durable and offers a thicker seal for wood. 
The type of wood also plays a key role in deciding the right stain. For example, when coating a wood with natural resistance to rotting, it is better to use a water-based stain. Examples of this kind of wood are cypress, cedar & redwood. 
Similarly, previous wood treatment is a crucial factor to arrive upon the correct stain. If the wood to be stained bears a previous coating of stain/ paint, care should be taken to ensure a new, even protective layer. It may be difficult to ascertain the previous layer,  but knowing it will undoubtedly help in choosing the apt stain. If the previous layer is oil-based, opting for a water-based stain now is advisable as the latter will adhere better as compared to an oil-based one.   
The kind of weather the wood will be exposed to is also significant in determining the best stain-base. If the wood element is going to have a direct exposure to rain, wind & sunlight, an oil-based stain is the best option. This is because it is more durable than a water-based stain, and will impart a much better protective cover against these weather conditions.
Interior spaces like bathrooms & kitchens are also in constant contact with varying levels of high moisture, especially bathrooms. And so, staining the floors & other wooden surfaces becomes important in these spaces too. In this image, the stained pine floor looks natural even in the monochrome design.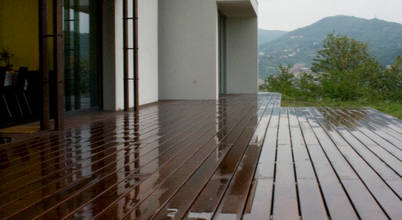 Water resistant woods: this is what you should know. Other water resistant wood types worthy of mention are Ipe, California redwood & bald cypress. Ipe is a widely used beautiful wood sourced from the tropical Trumpet Tree.
What Kind Of Wood Is Waterproof?. Water-resistant Woods While all woods respond to water, some species last a little longer in wet and damp environments. Hardwoods in general have better water resiliency than softer woods like pine because the fibers are tightly packed together, resulting in less absorption, which does not mean all hardwoods are waterproof.
Video of Water resistant woods: this is what you should know
Water resistant woods: this is what you should know
lar wood is significantly more water resistant than is untreated wood. Treating the wood protects it not only from the elements, but from harmful wood-decaying organisms, according to the University of Minnesota. Naturally Rot-Resistant Woods. Naturally Rot-Resistant Woods. By Alex Wilson. Osage Orange then coating the wood with an exterior-grade, water-based finish such as paint or opaque stain. This finish forms a film that sheds water but allows water vapor to escape. Alternatively, you can avoid wood altogether, choosing instead one of the new recycled-plastic or wood-plastic Choosing Rot Resistant Wood. Using rot resistant wood on the exterior of your home is a great way to extend the life of your siding, trim, decks, porches and other exterior woodwork. The Craftsman Blog Created with Sketch. 9 Mighty Woods For Outdoor Projects. Proper prepping of the wood, however, lets it accept all wood stains and clear finishes. The third major player, cypress, grows in swamps and has a conical base, with roots that seem to stand out of the water. 8 Rot-Resistant Woods For Your Outdoor Projects. Wood has an undeniable warmth and an association with woodlands and natural landscapes, and one type of rot-resistant wood can be used in a variety of ways. From an environmental standpoint, wood is a great choice when it is locally sourced and sustainably harvested.
Tags: Water Resistant Woods: This Is What You Should Know
Water Resistant Woods: This Is What You Should Know
Recommended Use: Understanding The Durability Of Your
Food Hygiene What You Should Know Poster
Smart Plywood Brown Wooden Boiling Water Resistant Plywood
Waterproof Laminate Wood Flooring: 4 Advantages You Should
What You Need To Know About Plywood
Dixie Home LVT
Scratch Resistant Flooring Moisture Resistant Flooring
Aqua-Step Laminate
How To Make Wooden Baseboard Heater Covers
The Prevision And Use Of Work Equipment Regulations 1998
One Thing You Should Never Use On Hardwood Floors (& How
Termites Attack Treated Pine Fencing
Laminate Plank Flooring Luxury Vinyl Plank Reviews Water
I Like This Color Bamboo Flooring
Ecoste
Can You Really Be Successful Without Being Coachable
WO9 Shabby Chic Wood By Photography Backdrops UK
FAQs -- After Gutting A Flooded Home
Choosing The Right Laminate Flooring
What Is Water Resistant Clothing? (with Pictures
25+ Best Ideas About Garden Bridge On Pinterest
Food Safe Wood Finish Polyurethane
Seal-Once™ Nano Guard Plus Poly Waterproofing Wood Sealer
Deck Waterproofing In 2019
Designer Wood Watch By JORD
How To Build A Solid, Frost-Proof Deck Footing
10 Tricks In Wood Staining
Thin White Wood Planks By Photography Backdrops
10 Interesting Facts About Glue
Conway Kosso & Midnight Blue
Invicta Pro Diver Wood Watch
41 Basic Tile Board Paneling Water Resistant
Different Types Of Flooring Luxury Vinyl Tile Reviews
DECK STAIN: Why Most People Mess Up Their Deck Big-Time
Create Shade And Privacy Outdoors With These Water
How To Make A Paper Snowflake Tutorial
Fieldcrest Zebrawood & Maple
22 White Wood Floor Ideas And How You Should Combine It
What You Need To Know About Treated Lumber
Everything In Your Life Is A Reflection
The Tile Home Guide
17 Best Ideas About Sewing To Sell On Pinterest
Align Building Control Limited
Elegant Wood Watch By JORD
Off Shoulder Train Sweetheart Chiffon Simple Cheap Wedding